Compared with other types of real estate, coastal real estate has long been sought after by investors. Thanks to the advantages of natural landscapes, the potential for tourism exploitation and the ability to increase sustainable value steadily.
Quy Nhon rises, leading and attracting investment
Owning 3,260km of coastline, Vietnam is one of the few countries in the world that has significant advantages in coastal real estate development with many beautiful, unspoiled beaches and year-round sunshine. According to the General Department of Tourism statistics, most of the localities with massive tourists are associated with the sea, such as Nha Trang, Binh Thuan, Ba Ria – Vung Tau, Phu Quoc…
In many destinations, the coastal real estate market, especially the central coastal areas, has witnessed an intense hunt for investors. The land fund along the roads overlooking the sea in Da Nang, Nha Trang or Hoi An city… is becoming increasingly "rare and hard to find".
The real estate supplement in these traditional markets is also becoming increasingly valuable. The continuously increasing cost means there is not much room for profit. According to Dr. Dinh The Hien – economist, investors tend to move to new lands, where the coast is pristine, the climate is fresh and there is not too much competition.
Prominent in the list of emerging real estate markets in the Central region is Quy Nhon (Binh Dinh). Mr. Hien implied that the number of tourists to Quy Nhon has had the leading growth rate in Vietnam in the last 5 years, averaging over 20%/year. In 2019, Quy Nhon Binh Dinh welcomed 4.8 million visitors, a growth of 85% compared to 2015.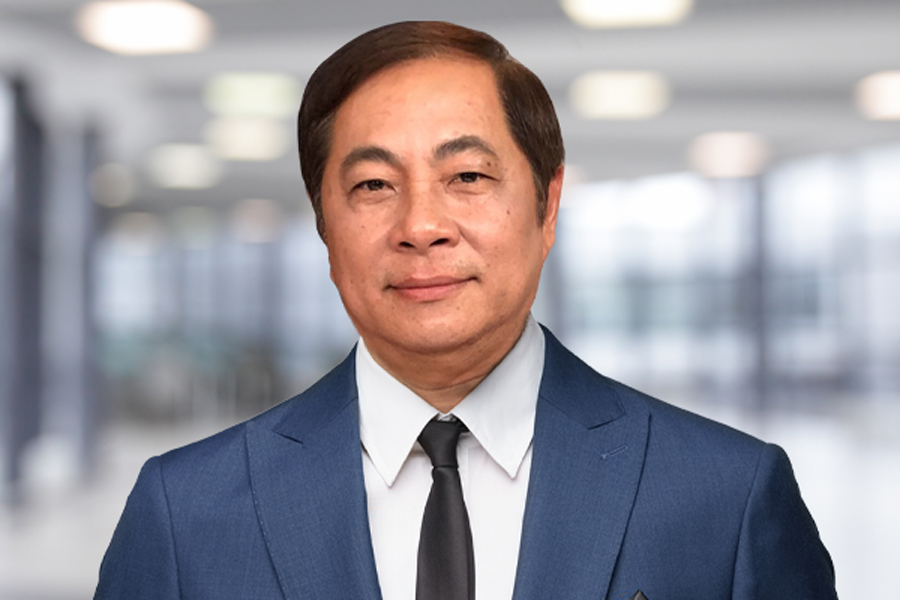 "Emerging Sea tourism market like Quy Nhon is more attractive to investors" – Dr. Dinh The Hien
Emerging marine real estate markets, especially Quy Nhon, have woken up from the land of sleep. Despite dramatic exploitation in tourism, the land price for project development is still soft, and Quy Nhon becomes attractive to investors, including professional real estate companies and individual investors.
The People's Committee of Binh Dinh province has recently approved the construction planning project of 1/2000 scale Phuong Mai tourist urban area, Nhon Hoi economic zone (located on Phuong Mai peninsula – Quy Nhon city).
This is a limited opportunity for coastal properties here when located in a well-planned area from the beginning, with a clear development orientation and benefiting from the surrounding infrastructure.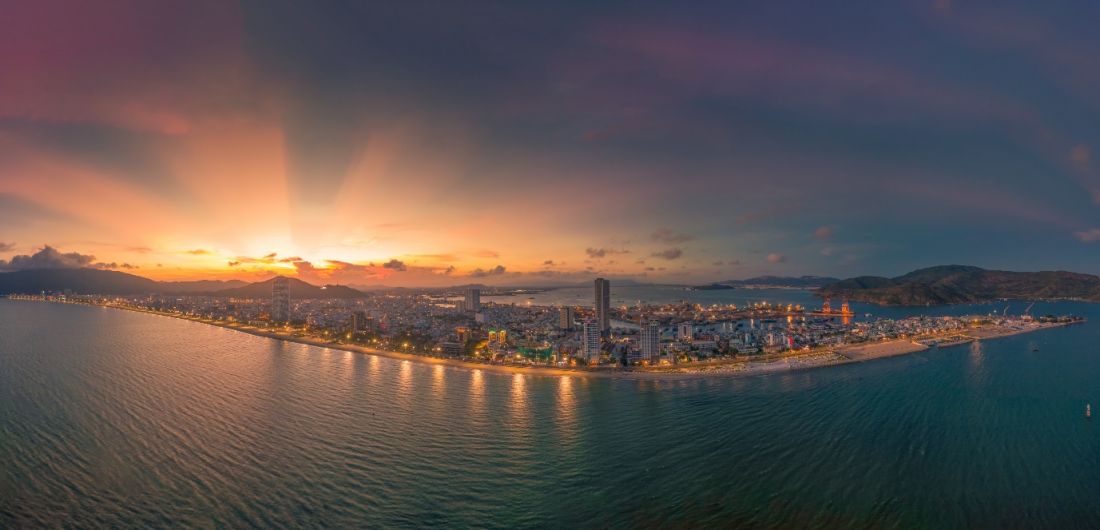 Quy Nhon with beautiful natural advantages and synchronous development infrastructure
Over last 3 years, Quy Nhon has been attracting many giant players in the real estate sector, with outstanding projects such as Takashi Ocean Suite Ky Co of Danh Khoi Group, MS Luxury Hotel & Residence Quy Nhon of TMS Group, FLC Quy Nhon Resort, and Golf Course of FLC Group…
Ocean Suite beach apartment with Japanese style attracts investors
As usual, beach apartment projects locate in a well-planned urban area, ensuring transport infrastructure, utilities, and legal transparency will be a safe investment channel for investors that compare to down money for land or townhouses in the population.
Located on Phuong Mai peninsula, Takashi Ocean Suite Ky Co is a coastal urban area with all the outstanding advantages of drawing investors' attention.
The project includes 17 apartment blocks and 1 hotel block developed in Japanese style, designed by Kume Design Asia. The project's main product is the Ocean Suite beach apartment product line that optimizes the ocean view.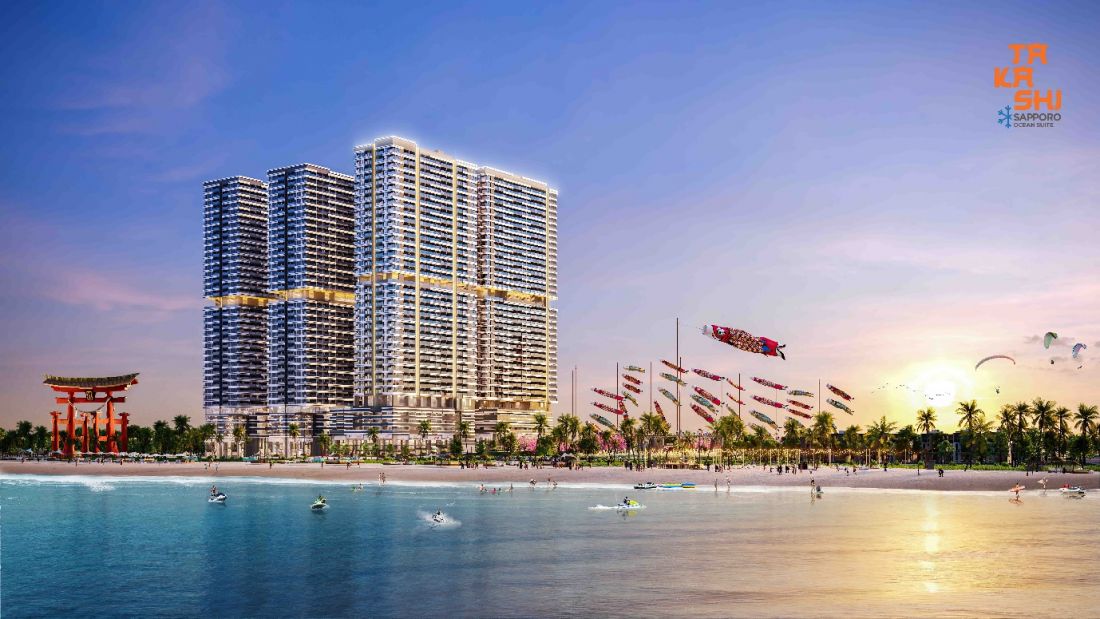 Takashi Ocean Suite Ky Co catches the eye of investors thanks to its strong exploitation potential
According to experts, the beach apartment's sustainable value is guaranteed by seafront location and ability to meets several needs: accommodation, resort, and exploitation for rent.
Remarkably, the beach apartments of Takashi Ocean Suite Ky Co are also one of the few seafront projects currently with long-term legal ownership. This is a "trump card" to ensure high profitability – safety – sustainability for investors.
Mentioning factors to keep in mind before spending money on marine real estate, Mr. Dinh The Hien stated: "In the current context, the number one priority is getting a long-term ownership certificate. Buyers should choose projects that banks have approved to guarantee loans with collateral as project products, even if they do not intend to borrow. Because the bank guarantee will be a factor to ensure the legal value and reputation of the investor. In addition, participating in the project from the very beginning will help investors buy the products at the best prices."
Currently, Danh Khoi Group is launching the first 3 towers of the Sapporo subdivision. Customers only need 139 million VND (equivalent to 10% of the apartment value) to be able to own a seafront apartment and only pay 20% of the value in advance, the rest will be paid after receiving the handover.